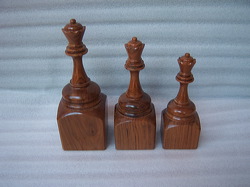 Trophy Chess - Because we take chess seriously to meet your satisfaction and demand, we introduce our new product named Trophy Chess. Trophy chess is a trophy that used as a prize in chess tournament as well as souvenir. It has the combination of the design of common trophy and chess piece.
This product is carefully crafted from teak by our talented artists who masters the creation of unique bas-reliefs.
The most favorable trophy for tournament is King Trophy Chess that we provide in 8" and 12". However, we are also pleased to make Queen Trophy as well as other requested forms.
8" King&Queen Trophy  - This trophy suits as the award to the winner of chess tournaments in all divisions, male and female. It becomes a good prize and memorable private collection/display in house, office, or chess club as well add to embrace the pride of individual.
Detail is here.
Horse Trophy  - This trophy has the image of horse piece. It is provided for chess championship for male and female. Available in two colors, black and white.
Detail is here.
Custom Trophy - Our company would be very delighted to hear and see your creative desire to make your custom trophy. We accept custom orders including the one with special engraving. We will work hard to craft you requested design and fulfill your demand.
Detail is here.